Welcome! You have reached the Web site for CUFF, the Charlottesville Underground Fetish Fellowship. CUFF is a pansexual BDSM/fetish social and support organization located in Charlottesville, Virginia, USA.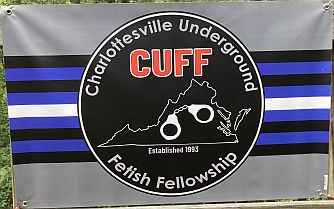 Our group is an active one. CUFF was first formed in 1993, and our membership consists of hetero, gay, lesbian, bi, poly, and transgendered adults. Our goal is to provide a safe, comfortable, and discreet environment where one can meet other kinky-minded folk.
CUFF provides educational information on a variety of topics along with friendly support and a social network of men, women, not-sures, and in-betweens who share our interests in the context of informed consensual relationships. We are an organization which provides a forum for the many different expressions of power in love and play.
Whether you are newly discovering your kinky side or have been actively involved in the BDSM scene for years, you are welcome. If you are interested in bondage and discipline, dominance and submission, sadomasochism, spanking, cross-dressing, fetishism, bootblacking, needleplay, rope bondage/shibari or other forms of alternative sexual activity, then consider attending one of our many open-to-the-public events. You will find that CUFF is a great place to learn and a great place to have fun.